And then there were THREE!

Turning back the clock!

New and Delicious!

Hickory and Pineapple!

"All Natural"! Enjoy our original favorite! We have gone back to basics with our All Natural Cook-in' Sauce. No high fructose corn syrup. No preservatives, and now, gluten free! Only 3 grams of sugar. Great on beef, chicken, pork and fish. NO MSG.

What could be better than the original? A blend of zesty peppers, a touch of sweetness and just the right amount of spices. We have outdone ourselves with this one! Gluten free with only 6 grams of sugar. NO MSG or HFCS.

This BBQ favorite on ribs and chicken, with a sweet 'n smoky taste and a hint of pure pineapple will have you coming back for more. Enjoy on chicken, pork, fish and more. NO MSG.
Enjoy Woody's® brand of sauces
any time of the year!
Try Woody's®: Holiday Meals never tasted SO GOOD!
Looking for something new and different for the Holidays? You've come to the right place! Try Woody's® for meals that are unique, delicious and memorable! Holiday food never tasted so good! Don't tell anyone: They're EASY!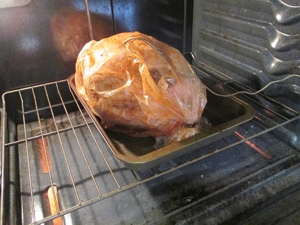 HICKORY HOLIDAY TURKEY
To your thawed or fresh turkey, brush on a generous coating of Woody's® Cook-In sauce both outside and inside the bird. Put the bird in a roasting bag. If you can, refrigerate overnight. Bird should be unstuffed.
Roast in the bag, at 325 degrees. No basting necessary. Cook until a meat thermometer in the thickest part of the bird reaches 180 degrees. Approximate roasting time: 8 to 10 lbs., 3 to 4 hours; 12 to 16 lbs., 4 to 5 hours.
Remove bird from bag. Rest about 20 minutes, carve and enjoy! The unique hickory flavor imparts a taste everybody will enjoy and remember. The bag helps infuse the flavor and keeps the turkey moist.
Please click here to view our listing of current grocers. If you do not see your local grocery store listed, click here to order from one of our online retailers or click here to contact us and we will send you order information to take with you on your next grocery run!
As always, Woody's® Foods loves to hear from our loyal and dedicated customers. Contact us with all of your Cook-in needs and don't forget to submit or view your favorite WOODY'S® recipe - click here.
Thanks to each and every one of you for your continued support!